The Cottages
The focus of Snug Harbour Resort's charm and beauty are in it's rustic cottages set amongst the splendor of tall majestic pines. All twelve fully-equipped house-keeping cottages have their own spectacular view of Desert Lake. In addition, visitors can barbecue and relax in the comfort of their own generous, private yard with picnic table and chairs. Cottages one to six are two-bedroom cottages while cottages seven to twelve have three-bedrooms. Each cottage has a bathroom (with shower), dining/living area and kitchen (with utensils, microwave, toaster, coffee maker, stove and fridge). All cottages are heated with electic heat. Most everything is provided with the cottages however we do ask that you bring your own bedding (sheets, blankets, pillows, pillow cases) and towels and dish-towels.

Please click on a cottage in the resort layout below for a tour of a particular cottage. Each link includes pictures showing the outside, inside and views of the cottage.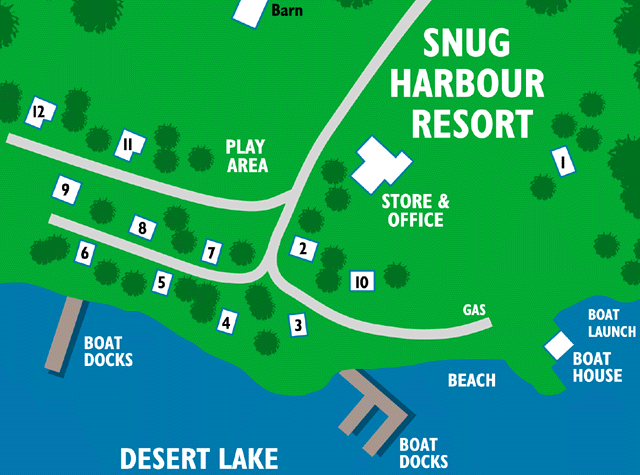 What to Bring
Here is a list of absolutely necessary items to bring on your visit:
bedding: fitted sheets, sheets, pillows and pillow cases and blankets

toilet paper

paper towel

kleenex

garbage bags

soap/shampoo

dish soap

dish towels

bath towels
The Grounds
Visitors to Snug Harbour Resort will find the scenery most appealing. The lake-side cottages are set amongst mature pine trees and expansive lush lawns. Although the cottages have ample room for relaxing or playing, the resort has additional green-space that includes a children's play area and basketball net. Desert Lake is easily accessible from all cottages. You will especially enjoy your own private beach with a gentle drop-off and swim-platform. Fishermen and boaters should note that we have a boat-launch, two docking facilities and boat-house.